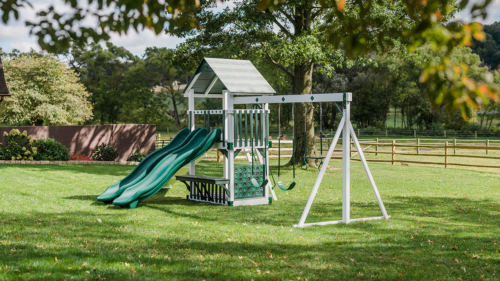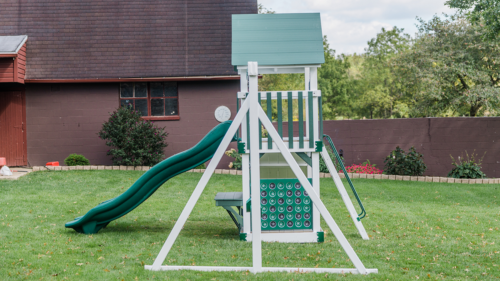 Medium Style
The Marina Swing Set
Recently installed in
N/A
Space Needed to install
21' x 35'
The Marina swing set is making its debut in 2023! With so many great features, the Marina will keep a group of children busy!
Description
New for 2023, the Marina is geared to be the hottest new swing set we offer!
The ramp slide bursts into 2023 as a new slide/climber option! Let's face it, kids enjoy climbing up slides, and the ramp slide is designed just for that! Whether clambering up or sliding down, the ramp slide packs a lot of fun onto the Marina Swing Set.
Dual slides, connect 4 game, and a lemonade stand provides lots of places for siblings to invent fun games or play date pals to stir up some creative adventures. The swing beam rounds out the fun with three swing positions!
Notes:
The ramp slide is very sensitive to slopes. If you have a significant slope, the ramp slide must be dug down or blocked up to work properly. Since it is made out of vinyl, it will show dirt or scuffs quickly. However, since it is vinyl, it is very easy to clean. It is only available at a 5′ deck height, and extra caution should be used when wet. And moisture on the ramp slide will speed it up and make it slippery.
| | |
| --- | --- |
| Border Needed: | 112' Linear ft. |
| Rubber Mulch Needed: | 2.5 tons |
| Wood Mulch Needed: | 7 cu. yds. |
| Weed Guard Needed: | 735 sq. ft. |
| Total Space Needed | 21' x 35' |
| | |
| --- | --- |
| Towers: | 4' x 6' Tower w/ 5' Deck Height |
| Slides: | (2) 10' Avalanche Slides |
| Climbers: | 5' Ladder, Ramp Slide |
| Roof Type: | Poly |
| Swing Beam: | 3 Position 8' Standard Beam |
| Rides: | (2) Belt Swings, Trapeze Bar |
| Fun Add-ons: | Decking Under The Tower, Connect Four-In-ARow, Lemonade Stand (No Chairs), Ship's Wheel |
Interested in this set?
Fill out and submit this form to secure your place in line for ordering a set
Thank you!
Someone will be reaching out soon.